Module:Brazen Chariots: Battles for Tobruk, 1941
From Vassal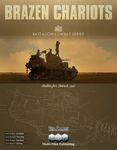 Files
Module Information
| | |
| --- | --- |
| Maintainer | Jim Pyle |
| Contributors | Jim Pyle |
Comments
Version 2.01 has updated Unit Skills Chart
Version 2.00 has the following updates:
1. Added HQ Mats to the module. See the Red HELP button, after loading a game, to see how that works
2. A few other little tweaks to make module closer in design to latest Last Blitzkrieg and Baptism by Fire modules
To use the HQ Mats on games started with previous module versions you'll need to do a Tools/Refresh/Run but note that the "Limited Support" marker on map will change to "Red Support" and need to be flipped back.

Version 1.10 has the following updates:
1. Updated to use VASSAL ver 3.5.0. Will not work with earlier versions
2. Updated to ver 2.0 of the BCS Rules
3. Added a "DICE" button to auto report reason for die/dice rolls in message window
4. HQs now can have counter marked "PD" for Prep Def and have Fatigue level on counter
5. Added HQ Assets window to declutter map

Version 1.02 is a minor update for Brazen Chariots. It's just to get a similar module format for the three games currently in the series
Be sure to see the "HELP" button for list of module features. A pre-setup game or other saved game must be loaded for this help to appear.
Screen Shots
Players