Module:Breakout Normandy
From Vassal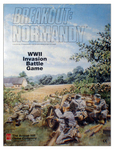 Files and Module Information
Comments
The Avalon Hill Classic.
Also can get version 0.53 (08-Jan-08) here
The 1.0 Series A version builds on the work of bennyb and gives you addition features such as:
1. Disruption is now integrated. You don't have to drag a disruption counter to the combat unit.
2. Interdictions are automatically calculated and results applied.
3. The supply value for depots is calculated during the refit phase and displayed on the counter.
4. Weather changes are automatically applied.
5. Able to play by either Avalon Hill or L2 rules.
6. Plus more features described in the module.
Screen Shots
Players
Tim Stevenson
PaoloM
JonasK
bennyb
kurtmeyer41
borat
MedievalBanquet
Liuka
arakis
mgreenman
WmHumphrey
Arlecchino
Enderrocs
notchback
Bromhead
Cartwright
Agitator
TeTeT
supersolid
MikeO
daxelos
notchback
Preacher
tippecanoe8
Ulv Miller
StarPit
Horrido
MKerby
howhowhow35
etopp62