Module:Brief Border Wars
From Vassal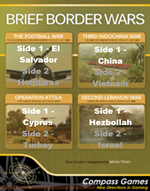 Files
Module Information
| | |
| --- | --- |
| Maintainer | tswider2 |
| Contributors | tswider2 |
Comments
Version 1.3
(1) Fixed a few units that had incorrect reverse sides.
(2) Allow counter that goes up to 99 to track rocket hits in Second Lebanon War.
(3) Modified Second Lebanon War setup so that rocket units are in stacks by themselves.
(4) Fixed bad data error message when using Elim function.
(5) Moved up location of the Damaged so it's closer to top (given its frqeuency of use).
(6) Updated map zoom to provide more granularity of increase/decrease options.

Version 1.2
(1) Added Flip option to the cards (sometimes needed if both players are sending cards to their hand at the same time, cards might not land right-side up).
(2) Added Combat SOP button to help track where players are in the combat sequence.
(3) Fix Special Action card to report their action.
(4) Change "Play to Discard" to "Play Card".
(5) Clarify wording for combat results chart.
(6) Validated starting deck for all scenarios for missing cards.
(7) Added buttons for 6, 7 and 8 dice.
(8) Added option to cards to remove from play (sent to dead unit graveyard)

Version 1.1
(1) Auto report for cards; helpful for identifying what card your opponent just played.
(2) Added setup for the Alternate Third Indochina War scenario.
(3) Added random event chart for Second Lebanon War.
(4) Added "counter" tool to help players record number of movement/combat points remaining.
(5) Edited splash screen to make names of sides easier to read.
(6) Added "return to base" shortcut for air units.
(7) Increased offset space for unexpanded stack so they are not mistaken as single units.
Screen Shots
Players