Module:Bull Run
From Vassal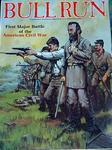 Files
Module Information
| | |
| --- | --- |
| Maintainer | cgmclellan |
| Contributors | pmart, cgmclellan,Stephen Oliver |
Comments
Vassal Version 2.1 uses original graphics.
VASSAL Version 4.0 & Version 5.0 conversion of ADC2's Bull Run module
---
9 Aug 08
ADC2 Bull Run V5 converted to VASSAL using VASSAL 3.1.0-Beta3
V5 adds BRIGADE factors to leaders and infantry and reciprocal factors to battle/mobile artillery. V5 adds AH grid coordinates to units on map.
---
This VASSAL 3.1.0-Beta2 module comes from conversion of ADC2 Bull Run module with Steve Likevich's (module maker) permission. The hidden unit version has not yet been converted, but perhaps will be when Beta3 is released.
The module had a setup boundary line for Union units. That line could be turned off in ADC2 but not in VASSAL; consequently, it was deleted before this conversion was made. As an alternative, there are optional markers provided that can be used to establish the setup boundary.
Artillery batteries can flip from the mobile side to the battle side and then back to the mobile side.
Confederate units that are frozen can be flipped to a blank side then back to their normal side. Artillery units that are initially frozen have a blank side and flip from mobile to battle to blank and then back to mobile.
All initial Union forces also have a blank side to support the Optional Fog of War variant. Dummy leaders needed for this variant are in the tray.
Units to support the July 20th variant are also in the tray.
Rules, charts, and other material can be separately downloaded.
Screen Shots
Players
pmart
cgmclellan
daxelos
mskgoss1963
SgtStinky
Chiggy
destroyer1963
kipchak
iam2509