Module:Burncylce
From Vassal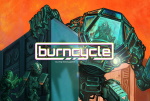 Files
Filename
Filetype
Size
Date
Compatibility
1.0
Burncycle_1.0.vmod
module
70.68 MB
2022-06-20
3.6.6
Module Information
Comments
A puzzly infiltration game for 1-4 players, burncycle puts you in command of a team of robots in the far future. Their mission: taking down evil, human-run corporations responsible for subjugating AI under their heel. Your team arrives at each corporate headquarters and must sneak inside, shutting down the companies' physical operations as well as their circuitous digital networks. As you search rooms and advance to the higher floors, you'll be rewarded with new items and abilities, but you'll also be challenged by threatening guards, fatal viruses and the architecture itself, which was built to fight off robotic intruders.
Version 1.0
This is the first version of an unofficial fan made Vassal module for "burncycle".
I added some convenient features.
A click on the left/right Side of a Chip will rotate it
A click into the center of a Chip will flip it
Most non-Bot/Guard/Captain Chips will be delete if clicked eg Terminal/Cache...
Door pegs are easily placed by clicking the peg hole on the Map Tile
In the upper left Corner on the Command Module is a Chip Shuffle area. Any chips dropped their will be shuffled and can then be placed on the burncycle
Network Dice can be increase/decreased by clicking the right/left side of the Dice.
A click on an Action Dice rolls the Die
Actions Dice can be rolled in bulk by selecting them and click the Roll button on the Agent Board

If you like the game please consider to support Chip Theory Games and buy burncylce.
Thanks to Chip Therory Games for their permission to upload this Vassal Module.

© 2022 Chip Theory Games. All rights reserved.
Screen Shots
Players