Module:Caesar XL
From Vassal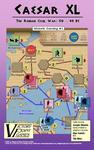 Files
Module Information
| | |
| --- | --- |
| Maintainer | Judd Vance |
| Contributors | |
Comments
In this great clash between rival factions, the Populares (those "favored of the people") and Optimates (the "best men") must find their champion and either preserve the Senate and Republic or call forth a Dictator to deal with Rome's pressing problems; perhaps making him king!
2.0 Upgrades:
- Unit stacks have counters so you know how many are left in each.
- Allied counters are added.
- Leaders can now move to the battle board.
- Barbarian chart is on the same page as the counters along with a cup to draw them from.
- Hide all units button added.
- For money, you no longer move pieces around. Instead, a value is shown and you right-click on it to add or subtract.
- Each player's hand window has buttons for purchasing units, die rolls, or cards. Money is automatically deducted as they are purchased.
- The battle board is automated. Looting occurs automatically. Eliminated units are removed and eliminated supreme commanders flip over his card, reduce money, discard hand, and reduce hand, and returns all units.
Screen Shots
Players