Module:Car Wars Compendium
From Vassal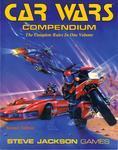 Files
| Filename | Filetype | Size | Date | Compatibility |
| --- | --- | --- | --- | --- |
VASSAL is not allowed to host this file or provide external links to the module in accordance to the wishes of the present Copyright Holder(s)
Module Information
| | |
| --- | --- |
| Maintainer | Greschen |
| Contributors | Greschen |
Comments
If you would like to see a module of this game made available please contact the Copyright Holder(s) to change their policy

This module is out of rules version, you still need a compendium book to play with it.
This module includes :
7 arenas (3 on water)
Car, Cycle, Ten-wheelers, Bus and Big Rigs
Aquabike, Boats and Large Boats (with automatic wake counters creation)
Maneuvers are complete with one command
Placement of droppers with one command, gas streamer shoot and HD with two commands
Placement of debris and obstacle in the same way
Range for weapons, walkaround, etc...
2.1 version add-on :
Different killed layer for each vehicle (official wrecked vehicle counters)
Cycle, Trike and Reverse Trike counter
Following update are programmed in order :
Add Arrow counter for crash result
Add Racing cars
Add Car trailers
Add Hovercraft
Add Chopper
Add Charts for quick play
LDB website
The Last Derby Bowl is a french PBEM. Since we'll have english player, the mostparts is in english language With the arrival of VASSAL, it may be play in live.

Link : LDB Website
Screen Shots
Players
Greschen
Peril Jaune
Metal Milita
Wheels of Fire
Damocles
Amazones
Vulcan