Module:Carcassonne: Hunters and Gatherers
From Vassal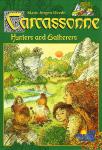 Files
Module Information
| | |
| --- | --- |
| Maintainer | unknown |
| Contributors | Sultan, ColtsFan76 |
Comments
Carcassonne:Hunters & Gatherers is another game created by Klaus-Jürgen Wrede and published by Hans im Glück Verlag.
Usage of this module implies that you own a hard copy of the game.
If you are interested in announcements about new or updated Carcassonne modules subscribe to the announcement mailing list here http://www.freelists.org/list/carcassonne-vassal.
John Lund modified the 1.0 release to fix a couple things, and add some more too.

Changes in Release 1.1

   1. Replaced a mistakenly duplicated tile with a missing tile.
   2. Added the expansion, "Carcassonne: The Stone Wall". See http://www.boardgamegeek.com/game/21165.
      The Stone Wall and Scout expansions can both be used in the same game, but the poorly named
      "Stone Wall and Scout" variant, which combines the two expansions into one stack, is not supported.
   3. Made a few nit picky terminology tweaks (e.g., "File tile" -> "Flip tile").

If you wish to use this version, all players must be using 1.1 release.  There are some incompatibilities with the 1.0 release.
Thanks to John Lund for sharing the changes.  These fixes, and support for for The Stone Wall will be included in the upcoming new 2.0 release.

Screen Shots
Players
Sultan
ColtsFan76
jfowler
wasal
PaulRein
Enigma1978