Module:Carrier
From Vassal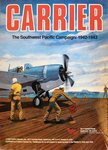 Files
Module Information
| | |
| --- | --- |
| Maintainer | unknown |
| Contributors | GJK, E |
Comments
Carrier v3.0s
Charts and tables in Spanish
Carrier v0.13
Last Update: 25 Oct 2007
Version 1.3
---
1. Fixed 3xCVL 3 dispenser.
Version 1.2h7
---
1. Added graphic die roll.
Version 0.12h6
---
This is an interim upgrade of Gary Krockover's initial work. _All_ graphics (even the updated graphics in this module) and base mechanics were supplied by Gary.
1. More appropriate behaviour for each area of the map (read: hex based movement does not cover the whole map anymore).
2. The counters that start at the lower left (USN Planes) and the lower right (IJN) of the map are not counters per se', they are really "counter dispensers"... Simply select one and hit enter and it will "dispense" an actual counter.
3. The CV counters at the very bottom right should be selected as appropriate, then the rest sent "to oblivion." After which, avoid this area as you play, because if you leave a counter there and accidentally send it to oblivion... *grin*
4. The CV Deck status and elevator status counters are embedded in the map (select that area of the CV graphics and hit enter to cycle the counters).
5. IJN & USN Logsheets are now "active" and us the "Click 'n Type" (tm)(patent pending) system. Right clicking will allow the ability to erase text as well. US Log's also have draggable blue circles to track USN CV hits.
6. Tables were cleaned up slightly (and trimmed a bit! *grin*).
7. (appropriate) Counter behaviour was added to game phase flow chart.
8. Addition of missing cup chits. (play around with the cups at upper left and lower right on the map, to determine behaviour).
9. Sized and included upgraded hex map graphics supplied by Gary Krockover (the outer edges still remain scans).
10. Back up your original Carrier.mod (to save having the re-download it if you decide this version really sucks *grin*), then rename this module to "Carrier.mod"
Version 0.1
---
Initial Release
Screen Shots
Players
GJK
DerDiplomat
koebi57
taellik123
ArmedMedic
SgtStinky
LordJesse
MCharves
AndresRodriguez
Steinhaus
netWilk
Lukefreck
kennystewart
Ulv Miller
almogaver266