Module:Carthage: The First Punic War
From Vassal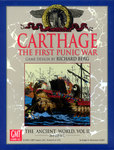 Files and Module Information
Filename
Filetype
Size
Date
Compatibility
Developer
Other Contributors
2.0
Carthage_V2.0.vmod
Module
6.6 MB
2019-10-25
3.2.17
sielski
Kevin Conway, Brian Sielski
1.2
Carthage.vmod
Module
6.2 MB
unknown
unknown
kwcoombs
Comments
Designer Richard Berg's "The Ancient World" series moves to a more ambitious level, with Carthage, the first of two games on The Punic Wars, the greatest event in the ancient world and a true turning point in history. Carthage concentrates on Punic events that take place in Carthage/Africa as well as Sicily, with the main event being the massive 1st Punic War, which has received scant attention from the hobby.
Update
v1.2.1 (my revision) has been taken down, while the original creator works on a new version.
—Rindis

v2.0 VASSAL module modified by Kevin Conway and Brian Sielski (with the blessing of K. Coombs) Version 2.0 - January 2019
Fixes in Version 2.0:
1) Added numerous counters not in original counter mix that facilitate PBEM play.
2) Added additional counters to reflect changes made in current living rules.
3) Modified scenario set-ups to reflect current living rules.
4) Fixed coding errors where counters would not respond correctly to user input.
Screen Shots
Players
kwcoombs
Pierre Miranda
Rindis
Ricky Gray
Bomilcar