Module:Chancellorsville: Bloody May, 1863
From Vassal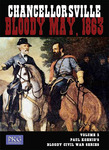 Files
Module Information
| | |
| --- | --- |
| Maintainer | Steve Bradford |
| Contributors | Gary Darkebear, Paul Koenig, Nathan Hansen |
Comments
With Permission of Victory Point Games and Paul Koenig Games.
Chancellorsville: Bloody May, 1863 (CBM) is volume two of Paul Koenig's Bloody Civil War Series. It is a two-player wargame simulating Jackson's infamous flankattack that occurred west of the Chancellor House (Chancellorsville) on May 2, 1863. As the Confederate player, you must try to crush Hooker's unsuspecting army. As the Union player, you must regroup from the initial shock of the blow, hold onto the Chancellor House, and counter-attack against Lee's outnumbered forces.
The scale of the map is about 300 yards per hex. Turns are one hour of real time, except the Night turn, which is seven.
Screen Shots
Players