Module:Circus Maximus
From Vassal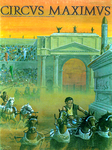 Files and Module Information
Filename
Filetype
Size
Date
Compatibility
Developer
Other Contributors
2.3
Circus_Maximus_2_3.vmod
Module
15.69 MB
2020-04-21
3.2.17
clanmacrae9
BarflyWingnut/sunclops




1.6
Circus1_6.vmod
Module
3.59 MB
2015-05-11
3.2+
Fleanbilly
Skalla
1.5
Circus1_5.vmod
Module
7.48 MB
2015-05-11
3.2+
Fleanbilly
Skalla
1.4
Circus1_4.vmod
Module
1.83 MB
2015-04-13
3.2+
Fleanbilly
Skalla
1.3
Circus1_3.vmod
Module
1.8 MB
2012-07-06
3.2+
Fleanbilly
Skalla
1.2.5
Circus1.2_Alpha.vmod
Module
1.32 MB
2012-05-05
3.2+
Fleanbilly
Skalla
1.2
Circus1.2.vmod
Module
1.32 MB
unknown
unknown
Skalla
Skalla
Comments
Avalon Hill's game of Chariot Racing in the Circus Maximus.
From BGG ...(With edits redacting the comments regarding Gladiator)

From Battleline, the original publisher: "The grandeur and decadence of ancient Rome in your living room! Thrill to the dust of chariot races. Violent and bloody, Circus Maximus details the chariot races that occurred in ancient Rome. Eight teams race around the track three times to determine victory. Players prepare for the race by selecting the composition of their team of horses, their rider's skills, and the type of chariot that will be driven. Once the race begins the players are free to do as they wish to hamper the other racers including whipping the rider, ramming chariots with scythed wheels, smashing into horses, and running over crashed opponents. A campaign game of multiple races, in which players have to manage their teams and can increase their income by betting on races, is also possible.

Version 2.2 and 2.3
About Circus Maximus Version 2.2 and 2.3

2.2 was released to correct the masking option for the speed counters on the spina and for the colored betting boxes on the proxy betting board. It had some errors as well, thus...
2.3 was released the following night with the corrections for 2.2 and the corrections to the corrections.
Version 2.1
About Circus Maximus - AH (1980) Version 2.1 module by clanmacrae9:

Improved betting and odds calculators
Resolved divide by zero error message that engulfed the chat window due to 0 Sesterces in formula at start of module
Corrected several counter problems (Counters not working or incrementing properly)
Added keyboard mapping display to identify keyboard shortcuts
Added Faction Board Instructions display (Located in Charts)
Added Betting Instructions display (Located in Charts)
Changed 1d6 text to match format of 2d6 and 3d6 results
Improved Proxy Betting Board to include purpose and guidelines
Changed Proxy Betting Counters to have a minimum of 1 (eliminates divide by zero error mentioned above)
Added 1 Sesterces increment to Proxy betting counters to minimize the effect of non racing teams
Corrected name of Dark Green Horse 4.
Added zoom levels of .1, .2, .3, .4, .5, .6, 7. ,8. 9, 1.25 for a greater variety of map sizes
Changed keyboard shortcuts (see Keyboard Mapping Display for updated shortcuts)

Version 2.0 (Please load version 2.1 if starting anew or replace version 2.0 with 2.1 if not currently in a 2.0 version race)
About Circus Maximus - AH (1980) Version 2.0 module by clanmacrae9:

Improved map (courtesy of Michael Pond) cleans up the play area nicely and is a little easier on the eyes than the original AH game board.

That said...The original game board is still available as an overlay from the module menu section which toggles the original map on or off.
The faction planning tiles are now permanently attached to the game board and tidied up for a smaller footprint
The Initiative Tiles are tidied up as well
The race turn indicators (Dolphins and eggs) are permanently attached to the board and may be flipped by selecting and either using the up/down arrow keys from the keyboard, or right clicking and selecting up from the options to flip the images.

Version 2.0 represents a major upgrade to the original Vassal Module and as such, is not compatible with any saved games from any of the previous versions listed below.
General tidying of displays
Improved Dice interface
Improved game pieces

Colored images
Movement Factor tracking
Killed horses graphics
Movement trail begins turn in on status
Inclusion of new pieces to support Spectator interference (Drunken Romans, Wine Amphora, Rocks, Fruit, and excrement. (That's right, the Romans had a tendency to get a bit rowdy)
Driver name can be added for mouseover viewing

Improved reports for most chariot activities (change in driver hits, endurance, wheel hits, whip lost...)
Improved Chariot Race Logs

All edits can be handled by static pieces on the log sheets
Text and numbers can be edited by selecting the item, and using the up, down, left, or right keyboard buttons as appropriate, or right selecting and choosing from the menu options.
Chariot Race Log automatically calculates Team speed with correct inclusion of horse speeds, Current Driver Modification (CDM) and any Endurance Hits penalty.
Faction can be named (Beyond the normal Color titles of the factions... e.g. The Blue team could be given a faction name of "Blue Meanies".
Individual horse names can be given, to customize teams even further. (Right click on the horse name area and type in updated name).
Visual "X" marks indicate the current status of any driver, wheel, or endurance hits assigned to the team. (select image, then Right or left click as appropriate).
Yellow and Red box indicators for the endurance penalty areas on the endurance chart

Chariot Team Generation tools to aid players in quick and easier chariot generation

Driver Hits Generator - Rolls the driver hits based on your Driver Mod Specification.
Team Speed Generator - Rolls the speeds for each of your four team horses based on your Team Speed Specification
Endurance Generator - Rolls the number of starting Endurance Hits based on your Endurance Specification

Spectator Interference Rules

The chart for Spectator Interference has been included with the charts
Alternately, and recommended are the Spectator Interference Generators which will guide you through the possibility of any spectators interference at the beginning of each turn

Inclusion of Campaign Rules tools

Faction Board included for each faction (Blue, Green, Red, Gold, Tan, Black, Purple, White)
The factions boards include:

Betting
Skullduggery
Purchases (Carts, Drivers, Carts)
Purchases of protection against skullduggery
Reserve chariot team information (keeps your reserve team data handy between races in which reserve teams are not committed)
Automation tallies all purchases for betting, Skullduggery, Security
Automation tallies all bet winnings
Total Sesterces (monies) are managed by the player independent of the automation to allow for off the table dealings such as loans, or any corrections required to ensure monies are correct
The new faction pairs for the 2.0 version are as follows:
Blue Faction Teams- Dark Blue/Light blue
Green Faction - Dark Green/Light green
Red Faction - Dark Red/Light red
Gold Faction - Orange/Yellow (Orange is considered the dark and Yellow the light colors when rules require clarity)
Tan Faction - Dark Tan/Light Tan
Black Faction - Dark Black/Light Black (Light Black is represented by uses the Gray color)
Purple Faction - Dark Purple/Light Purple
White Faction - White/Off White (White is considered the dark and Off White the light colors when rules require clarity)
Video demonstrations below apply to both the 2.0 and 2.1 versions (Upgrade recommended to version 2.1)
See an introductory video to the 2.0 version
See a demonstration of the Chariot Team Generation process
See a demonstration of the Campaign Game features built into the module
See a demonstration of the new pieces functions for Circus Maximus

Note: 2.x versions are not compatible with 1.x versions

Previous Versions of Circus Maximus
Version 1.6 - Added new Map (Kept Team Ownership for Save Games Next Version will remove it for multi night games
version 1.5 - Bug Fixes and new Map
Version 1.4 - Add four more teams (2 pairs)
Version 1.3 - Added two new factions.(Light Tan and Dark Tan) They are paired into a team.
Version 1.2_Alpha - Added a Notes window for Skullduggery
Version 1.1 Fixed a few things, Sorted factions by color so Blue and Light blue can be played by one player for example.
Version 1.2 Cleaned up map and fixed a few minor issues.
Playtest comments welcomed.
Some notes on play of Circus Maximus
The deck replaces the chit drawing of the board game for initiative, pretty self explanatory.
Use the number counters for speed, flip em to the masked side and type in your speed. Then all players can reveal their new speed at the same time. I recommend the middle of the track for this.
To get the movement trails to work, I have found you need to click the move button on the upper tool bar at least once, will try to figure this out better eventually.
The new faction pairs should be obvious, but here they are for clarity:
Blue/Light blue
Green/Light green
Red/Light red
Orange/Yellow
Gray/White
Light Tan/Dark Tan
So the Red player can see and manipulate the Light red players pieces and Log sheet. Good for folks that want to run more than one chariot.
Screen Shots
Players
Skalla
DerDiplomat
jfmays
baub64
Badger
Vardune
ascalon
Natek
JimGrognard
Pabu
hdrestr
Blaer
Muzzlehead
PNMarkW2
psychojosh13
Kipchak
paspas
MichaelHovan
scottobear
Lorakil
Metro
sarfs
fleanbilly
Ijumpajav
BarflyWingnut
Kevin