Module:Citadels
From Vassal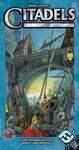 Files
Module Information
| | |
| --- | --- |
| Maintainer | alfonso, Wakko |
| Contributors | alfonso, Wakko |
Comments
Citadels 1_2.vmod contains the exact same contents as Ciudadelas 1.2, but with an English (US) translation.
Citadels1_2_eng.vmod has been updated to contain full English text and cards.
Citadels1.2.1_Eng.vmod (English text/cards) has been updated to restore return character cards functionality in-line with Spanish version.
Citadels1.2.2_Eng.vmod Updates Citadels1.2.1_Eng.vmod to allow the return of a District card to the bottom of the deck.
Screen Shots
Players
alfonso
dragonnec
AndrewC
Waruko
Wakko
LordJesse
jeje7667
aldaron
Brea
NikkoHell
kaukrato
TRagedy
aleipa
Shadoglare
SpecterFan