Module:Civilization: A New Dawn
From Vassal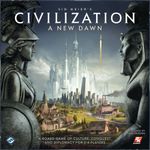 Files
Module Information
Important: You need a physical copy of the game to use this module. In order to comply with FFG's policy, all the Victory Cards are removed from this module.
Comments
Sid Meier's Civilization: A New Dawn is a strategy board game in which two to four players act as the rulers of history's most memorable empires. Over the course of the game, players will expand their domains, gain new technologies, and build many of humanity's greatest wonders. In the end, one nation will rise above all others to leave its indelible mark upon history.
Version 1.0 This is the first version of a fan made Vassal module for "Civilization: A new Dawn". It includes the AI Solo Focus Cards.
© 2017 Fantasy Flight Games. All rights reserved.
Screen Shots
Players