Module:Close Action
From Vassal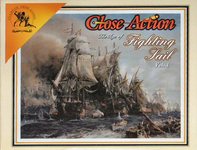 Files
Module Information
| | |
| --- | --- |
| Maintainer | KLGrande |
| Contributors | KLGrande, Toadkillerdog |
Comments
The game of ship battles in the Age of Fighting Sail by Clash of Arms.
See the included Module Information page in the module's help section for some tips on how to use the module.
If you do not presently own Close Action you may visit the Clash of Arms site to check on availability.
Click here to see the module [#History Version Histories].
Version History
Version 1.5 - 26 Oct 2021
Added 12 point turns to support use of the Bloody Red Flag rules.
Version 1.4 - 2-13-06
After releasing version 1.2, I soon realized I had a problem with the way the plot chits worked. Version 1.4 should correct this problem.
I also added button graphics for the ship logs and plot chit boards.
Version 1.2 - 2-12-06
Updated player sides to allow from 2-10 players to participate at one time.
Added enough ship logs to the module to track five ships per side for a total of ten players. If more than ten ships are used the extras will have to be tracked offline.
Added a notes section.
Version 1.0 - The initial module release - 11-15-05.
Screen Shots
Players
jeb123
KLGrande
Alberto
rugby
deadrise
tinG
CarlN0130
Burkhalter
DerDiplomat
rhammond
ahickey
Andre
tassonik
jjtaylor37
XSiberia
Minaya
raestuart
shmcbee
will
MarkMcG
rhammond
daxelos
MrMorbid