Module:Codeword Cromwell: The German Invasion of England, 8 June 1940
From Vassal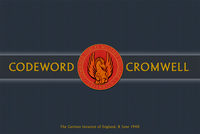 Files
Filename
Filetype
Size
Date
Compatibility
Developer
Other Contributors
2.3
Codeword_Cromwell_2_3.vmod
Module
32.61 MB
2016-27-07
Vassal 3.2.16
Dulgin
Module Information
Codeword Cromwell is a military boardgame simulation based on a German Armed Forces Invasion of England in summer of 1940. It was produced by the Combined Forces Military College in Greenwich, and is used to train officers of the Combined Defense Force that was established following the cessation of hostilities in March, 1941.

Comments
For module history and older versions, see the module discussion page

Main changes in Version 2.3
Piece counters in German units decks fixed (would't shown in Vassal 3.2.16)
Adding Anti-Tank-Marker-Function to units/characters
Game set up changed, included save game removed

Please send me feedback if you find any bugs in the module design or have suggestions for improvement.
Screen Shots
Players