Module:Combat!
From Vassal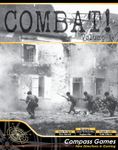 Files and Module Information
Filename
Filetype
Size
Date
Compatibility
Developer
Other Contributors
Alternative Module v1.01
Combat Alt v101.vmod
Module
145.4 MB
2021-09-05
3.5.8
Nigel Rabbetts
Ross Mortell
Alternative Module v1.00
Combat Alt v100.vmod
Module
144.31 MB
2021-05-11
3.5.5
Nigel Rabbetts
Ross Mortell
Updated Module v1.1
Combat!v1_1.vmod
Module
186.36 MB
2021-11-14
Greg Amos
Original Module v1.0
Combat!.vmod
Module
186.36 MB
2021-05-07
Greg Amos
Comments
Combat! is a solitaire game on man to man combat in the 20th century. The player controls friendly forces and attempts to complete a scenario against enemy forces that are controlled by the game system. Original and Alternative Modules present two different implementations of the game.
Alternative Module v1.01 corrects map numbering issue and updates setups in accordance with v1.36 of the Scenario Book.
Screen Shots
Players