Module:Combat Commander: Europe
From Vassal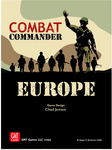 Files and Module Information
Comments
(GMT Games by permission). Version 2.2 hosted by GMT Games (Version 2.3 will be posted there soon).
You can also get the module at GMT Games
2.3 is not compatible with 2.2 or lower versions of the module
2.2 is not compatible with 2.1 or lower versions of the module
CCE-RSG returns the Random Scenario Generator button functionality that was present in 2.1.
CCEurope-More_Scenario_Rosters adds all nations as sides for Scenarios 1-6 and 8-12. Created with permission of the Game Designer, Chad Jensen.
Scenario rosters are at BGG
Updated version: Stacks units in Stage Map windows to reduce clutter.
Stalingrad Battlepack v1.1 corrects predefined setup for Scenario 44 and adds option to play that scenario with a map that removes cliffs and level 2 and 3 hills per that scenario's special rules.
2.1 Spanish Edition
Compatible with the English version
Mediterranean 1.1 extension allows pieces to be activated.
Screen Shots
Players
Alex
TommieSL
Hank Burkhalter
tmccarron
Michaelangelo
Pierre Miranda
Toadkillerdog
warbear
gap10
bishuk
Bostich
RolloTommasi
Corregidor
Tmo
nix342
Starman
kirin
dejanas
RebelRob
Castaway99
Springroll
RedBishop
nguthrie
outlander000ITA
DougTeach
FirestoneIV
Grumpsie
Firepigeon70
McWookie
colinkun
Panther11
juheimbu
Noman
Dynaman
Liuka
LordJesse
daxelos
KevinRohrer
Razor
Drueding
BobJ
Preacher
Mickel
nickd
Mickel
RDW
nix342
Totola
RebelRob
ETgames
btrhoads
paspas
JonatanRaven
jonbryon
Rhuned
Pabu
sgtshellback
platoon29
samsmith
jomni
daveyk39
ChandlerB
geekgeek
rickbill
TKaz84
brandysta
alaskaspi
PedroCruz
Bridger
seanmac31
MiracleMike
PROPUGNATOR
mawiker
CBRMichael
aaxiom
Lukefreck
kiketom
PacoHolliday
BLACKvsRED
patgarret77
meng
buffmeister
mccann98
JonasK
jksedge
timvandongen
Gluka70
netWilk
BugDany
rhammond
cornjob
czmielon
billgoode
oberjt
charlescab
notchback
Tulfa
JonnyLawless
CAF
Fentum
fatgreta
Andres Rodriguez
ganotisim
bdgza
HazMatt
Rommie
César
Greygor
Rick Galli
John Longstreet
Cashel
Pap aka X Heeren
Kevin Rohrer
Nick Rusch
Mark Johnson
Roger Nord
Philmer
Poguem101
soul1st
zbyhoo
b4retina
DrManhattan
mcdeans