Module:Combat Infantry
From Vassal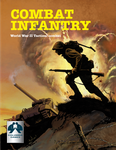 Files
Module Information
| | |
| --- | --- |
| Maintainer | G1ul10 |
| Contributors | G1ul10 |
Comments
Version 2.2:
granted permission to add/remove fire and special action markers also to non-owning players;
report messages in chat for fire, spot, target, special actions, assaults and activation by HQ;
corrected a typo in masked unit names;
fixed battalion assets internal module unit id;
moved unit action markers to the right of the counters after realizing that on the left they might interfere with units stacking;
fixed movement trail bug on the right and bottom map hedges.
Version 2.1:
units are revealed when entering an enemy occupied hex;
added "fire" thread for an easier attack designation;
improved buttons bar icons;
Version 2.0:
changed some keystroke for better mnemonics: 'ctrl-a' activate the unit, 'ctrl-f' fire the unit, 'space' flip the unit;
updated O\B windows with a nicer layout;
updated Losses window with a nicer layout;
added the possibility to flip board maps;
added images of official scenarios;
added official scenarios map with turn track;
added all base game pre-defined setups;
removed game turn counter from button bar;
HQs are revealed when activated;
units are revealed when firing or performing special actions;
vehicles are revealed when moving;
units become active if marked with failed activation;
units become active if they move;
units are revealed in the Losses window;
a wreck marker is placed where vehicles are eliminated;
placement of smoke, foxhole and broken bridge trigger a message;
warning to designate a spotter for bombardment;
random assets can be drawn directly on the map;
split American, German and terrain pieces in separate palettes;
added the correct unit cost chart;
added a chart with the list of command keys;
added a quick start entry to the help menu;
added a "label" piece to put brief text on the map;
clean-up of unused images;
Version 1.1:
fixed typos on German units and assets;
change the label of any unit with ctrl-l;
removed redundant "attach" command;
CHQ use a generic image and specific labels;
the old CHQ images are still included for backward compatibility
updated unit visual image;
added darker transparent hex to denote out of play areas;

The CI_charts file details all special keys used in the modules.
The CI_official scenarios extension adds the original scenarios sheets in a browsable menu.
Screen Shots
Players