Module:Commands & Colors: Napoleonics
From Vassal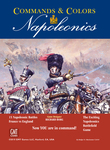 Current Versions (Older Versions at bottom of page)
Standard-Size Game (2 players)


EPIC & La Grande Battle Games (2-8 players)

Filename
Filetype
Size
Date
Compatibility
Developer
Other Contributors
Epic v2.2
CCNapoEpic2.vmod‎
Module
16.19 MB
2016-10-31
3.2.2
Bayernkini
Fansscenariosepic.vmdx
Extension
2.87 MB
2016-10-31
3.2.2
Bayernkini
Comments
Find players and support via the CommandsAndColors.NET fan site.
The Files and Comments sections are divided into "Standard-Size" and "EPIC & La Grande Battle" sub-sections. Select the sub-section for the type of game that you wish to play.
Standard-Size Game
Modules & Extensions for standard-size Commands & Colors: Napoleonics.
Version 4.1
Version 4.1 is a maintenance update to Version 4.0 to fix minor bugs. It includes only minor new features. See Change Log for full list. To ensure operation with Vassal version 3.6, this release is NOT backwards compatible; all participants in a game should use the same Vassal and module version.
Version 4.0
Version 4 introduces many convenience features whilst remaining familiar to v3.4 users. New features include a revamped Toolbar, self-managing hand windows, intelligent combat markers and graphics in the chat log to display dice results and other information. Most fan scenarios are included. A tutorial aids new players and those familiar with earlier versions. The latest release and a change log is in the files section above.
This version is not backwards compatible but v3 log files and games can be viewed. PBEM players may find v3.42 more suited to their needs (feedback invited).
Please post on the VASSAL module support forum to advise any issues.
Version 3.42
Version 3.4 is the classic Commands & Colors: Napoleonics module. Version 3.42 corrected one scenario in v3.41 (Vauchamps) and remains compatible with Extension v3.41.
Extension Version 3.41: Provides most standard size fan scenarios published by designers on commandsandColors.net. Only compatible with Main Module version 3.4x

EPIC & La Grande Battle Games
Modules & Extensions for games on the EPIC Napoleonics & La Grande Battles Napoleonics size boards.
Epic Version 2.2
EPIC & La Grande Battles module; all Expansion 6 EPIC and La Grande Battle scenarios included. This version is not backwards compatible with the unofficial epic version nor the old epic fan extension.
Epic Extension Version 2.2: Epic fan scenarios. Requires Epic Main Module version 2.2.
Archives
See https://vassalengine.org/wiki/Module_talk:Commands_%26_Colors:_Napoleonics for Archived comments
Screen Shots
Players
Terumo
Joel Toppen
bdgza
AronBC
J6A
theimann
ColtsFan76
JWandel
Bayernkini
Grifalco
Derekrledr
Michaelangelo
oneway76
soul1st
Pierre Miranda
RiverWanderer
Tal S
Older Versions