Module:Commands & Colors: Napoleonics
From Vassal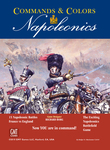 Current Versions (Older Versions at bottom of page)
Standard-Size Game (2 players)


EPIC & La Grande Battle Games (2-8 players)

Filename
Filetype
Size
Date
Compatibility
Developer
Other Contributors
Epic v2.2
CCNapoEpic2.vmod‎
Module
16.19 MB
2016-10-31
3.2.2
Bayernkini
Fansscenariosepic.vmdx
Extension
2.87 MB
2016-10-31
3.2.2
Bayernkini
Comments
Find players and support via the CommandsAndColors.NET fan site.
The Files and Comments sections are divided into "Standard-Size" and "EPIC & La Grande Battle" sub-sections. Select the sub-section for the type of game that you wish to play.
Standard-Size Game
Modules & Extensions for standard-size Commands & Colors: Napoleonics.
Version 4.1
Version 4.1 is a maintenance update to Version 4.0 to fix minor bugs. It includes generally only minor new features. v4.1.10 adds in-game Player Aids, improving mouseover ("hover text") functionality for units & terrain. See Change Log for full list of changes.
To ensure operation with Vassal version 3.6, this release is NOT backwards compatible (except for viewing); all participants in a game should use the same Vassal and module version.
Acknowledgements: Thanks to bdgza for converting his C&C Scenario Chooser to work with Napoleonics and to AleCrespi for enabling commandsandcolors.net scenario data used by the tool.
Version 4 introduced many convenience features whilst remaining familiar to v3.4 users. New features include a revamped Toolbar, self-managing hand windows, intelligent combat markers and graphics in the chat log to display dice results and other information. Most fan scenarios are included. A tutorial aids new players and those familiar with earlier versions. The latest release and a change log is in the files section above.
Please post on the VASSAL module support forum to advise any issues.
Version 3.43
Version 3.4 is the classic Commands & Colors: Napoleonics module. Version 3.43 corrects two scenarios in v3.42 (River Coa & Czarnowo) and patches the card count feature for Vassal v3.6.12+ compatibility. Remains compatible with Extension v3.41.
Extension Version 3.41: Provides most standard size fan scenarios published by designers on commandsandColors.net. Only compatible with Main Module version 3.4x

EPIC & La Grande Battle Games
Modules & Extensions for games on the EPIC Napoleonics & La Grande Battles Napoleonics size boards.
Epic Version 2.2
EPIC & La Grande Battles module; all Expansion 6 EPIC and La Grande Battle scenarios included. This version is not backwards compatible with the unofficial epic version nor the old epic fan extension.
Epic Extension Version 2.2: Epic fan scenarios. Requires Epic Main Module version 2.2.
Archives
See https://vassalengine.org/wiki/Module_talk:Commands_%26_Colors:_Napoleonics for Archived comments
Screen Shots
Players
Terumo
Joel Toppen
bdgza
AronBC
J6A
theimann
ColtsFan76
JWandel
Bayernkini
Grifalco
Derekrledr
Michaelangelo
oneway76
soul1st
Pierre Miranda
RiverWanderer
Tal S
utl94
Older Versions