Module:Commands & Colors Ancients
From Vassal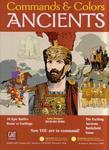 Files
Full Game (both Standard and Epic) v 4 (English)
Standard Game 3.3 (English)
Epic Game (English)
Standard Game (Italian)
Epic Game (Italian)
Filename
Filetype
Size
Date
Compatibility
1.0
CCA_Epic_ITA.vmod
Module
6.12 MB
2010-02-02
unknown
Module Information
| | |
| --- | --- |
| Maintainer | Bilben, AleCrespi, marktb1961 |
| Contributors | Bilben, AleCrespi, G1ul10, bdgza, marktb1961 |
Comments
C&C Ancients is Richard Borg's game of ancient warfare, published by GMT Games. You can find info, rules, scenarios and more on Commands & Colors: Ancients website.
Version 4.3 is an incremental update to Version 4.2 (see below), that adds the "Power of Three" solo mode along with several fixes and minor enhancements. It is not backward compatible with version 4.2, except for viewing games.
To see CDG Solo mode in action, try Robin Reeve's YouTube Series (in French).
*** v4.3.6 & v4.3.5 First Strike replacement bug *** There is a bug in these versions causing a loop when the First Strike replacement button is pressed in an opposed game. If using one of these versions, save your game, update to module v4.3.7 or later, re-open your saved game and use Tools...Refresh Counters before continuing. Alternatively, replace a First Strike card by dragging a card from the Draw Deck. Sorry for any inconvenience. Mark B.
Version 4.2 by marktb1961 is a major content and features update that builds on version 4. New features include click-actions, full end turn automation and GMT's CDG Solo System (used with kind permission of GMT). More details in the release notes. The module is considerably larger than previous versions due to more scenarios and functionality. Log files are typically 500Kb+ in size which may be a consideration if saving many log files on a free cloud service. The basics of game play will be familiar to users of earlier versions and the module's Help menu includes further guidance.
Vassal compatibility: Due to a bug in Vassal, user preference for block strength display (icons or number) is not saved between module sessions and will default back to "icons". A fix is included in the next Vassal release (v3.6.8). Sorry for the inconvenience.
Version 4 by alecrespi is a complete redesign (change log below and more details on CommandsAndColors.NET website).
Version 4.1f1 is compatible with v4.1. It makes a small change to the End Turn button action, resolving a movement trails issue brought about by Vassal v3.4. Contributor: marktb1961
Epic Name Tags for v4.1: To deploy labels, replay the CCAEpicNameTags file as a Continuation File' after opening an Epic scenario. Label or delete the name tags as required. Important: For Vassal v3.5 onwards, Load Continuation is under the Tools... menu. Do not load as a Game or Log File!
Version 3.3 by g1ul10 includes a solo mode and introduces automatic re-placement of attacker/target markers.
____________________________________________________________________________________________________________________________________ v4 Changelog
- modified icons (from left to right: undo, next, disconnect, change side, p1, p2, dice from 1 to 7, terrains, units, notes, charts, end turn / clear)
- I've also modified Zoom, "LoS" and Clear moves icon
- card back with white round corner
- player's hand windows with grey / bronze background (following toolbar icon color)
- changed dice face pictures with HQ images and round corner)
- draw icon on player's hand (hand icon) to automatically draw to hand 1 card (with log on main log window)
- cards drawn to player's hand automatically stacks side by side (without overlapping)
- right click (or shortcut) on selected card to be "played" (as to say: send it to the center of the map, instead of drag'n'dropping things around) deck card counter (a small number to show remaining cards)
- swapped "draw" and "discard" deck to keep more visible "actual card in play" (instead of scrolling to the right)
- thicker "movement trail" to be more visible
- "color coded" it to better understand relative faction
- added a "star icon" to identify actual in turn player (icon shows on top or bottom of the map) linked to "End Turn" hourglass icon
- added "cards left" counter below command card draw deck
- added sound: dice roll
- added sound: draw / flip / play a card
- added sound: reshuffle deck
- redesign victory track bar (what do you think about placing one at the top and the other one at the bottom of the sidebar, instead of both at the bottom?)
- star icon (bottom left) to show actual player (it cycles from bottom left to top left every time a player ends turn)
- HQ dice picture on sidebar
- added "report in log window" for marker actions like "attack" and "target"
- slightly changed markers: attack = double swords, target = bullseye, battled = tick)
- integrated all extension materials (markers, units, terrains, chards, scenarios, ecc) inside main module, so we are going to have a single VMOD file including all official components
- added scenarios menu (submenu) with unlinked scenario vsav files
- added units with color-coded movement trails
- unit movement using numpad keys
- added a "Hide units" icon to easily show the map with terrains only
- added "Area of Effect" trait to see ranged combat max distance for bow, slinger (foot and cavalry) and war machines.
- added links in "About menu" to easily reach Units and Terrain section on Official Website
- changed highlight color to be more visible and less "overlapping"
- "Mouse Over Stack" feature will show both terrain and units
- added "hide letter" button (to enable / disable top left letters inside unit block)
- added Figs Lost count
- added buttons to remove/add sounds
- added "scenario chooser" (similar to memoir 44) with full statistics, scenario preview and link to official scenario webpage

Screen Shots
Players
jgs3
bricco
Greg O
czmielon
Coxyfc
militantcheesewiz
HazMatt
Bilben
seanmac31
caroper
Xoota
GuyRiessen
Davout
Burkhalter
Toadkillerdog
Ogreking
DerDiplomat
fred25
Corregidor
Bizzio
motoi
markball
fenris
ToganAlper
robin
ColtsFan76
ges
jrhester
jtesser
paulmdickey
ges
JanWels
Athos
Kenntak
paspas
goldenboat
Benwa
Alexander331bc
smalecek
aforandi
glocko
mschemen
Erebus
WyattB
mawiker
callsignthumper
timf
Acheronian
zatopek
lpauperio
Diego
Prufrock
Biggls
biffo
Telchar
Preacher
xrubio
grantwhitley
MarkHill
casoli
Tacticus
trailofdead
bpisarik
Cantata
raiderd23
EricTheRed
Cunki
norseman1066
yams69
Angel40k
yangtze
Pennicillina
Lemno
AlextheTitan
swduke
regbob
XSiberia
EricTheRed
40thann
unicoEvo
jrmorgan56
Rooster
jburdett
Maraxus
zollone
nerotora
darthxaos
Totola
CroakerPete
sedecula
Dean
Hawkmoon
lesulm1
odonkor
Totola
Jashugan
Elnaith
Josh
DougTeach
markacres
Slorm
Tanngrisner72
Buck
leegb1
c7Jim
gherardo
agssm
Holien
buffmeister
psychojosh13
Noman
asdnart
mickery
pzlehr
ermd
ktodd
LordJesse
ozpom
daxelos
ktodd
SaphireSoldier
thehermit
justnord
southseasnurse
BDebus
doctormabuse00
gwylie
toddrew
Damien
Zaratustro
michaelangelo
Totola
Christo
dunlar
Ron42na
Goshawk
AleCrespi
GraftonHill
bayernkini
espoir
KingMob
philmcd
Gluka70
valkray
jomni
knoel
Hector
Amarok
shmcbee
nerotora
lpauperio
LordJesse
BeatGuy
thales
kaufmad
TKaz84
brianconlon
brandysta
drmabuse00
Obreelsulls
shawn1341
Wicked133
DavidSAntonio
mehrunes
TuoLei
moloch
smaul1
PROPUGNATOR
VyC
jpat
zaxor0
lpauperio
Guthwulf
JoelCFC25
seelord
PacoHolliday
SoloHobbit
Shrimpers
warloc66
mortificator
timvandongen
grifalco
bayernkini
SamuraiLord
lj1983
WyattB
Pak43
MarkMcG
nitro50010
rhammond
hanyhebisha
fjfuentes
bloddragon
ed091maf
kduke42
elginj
Lysimachos
Colonelsam
uselessarthur
Rindis
markwals
PNMarkW2
smtudor
jjtaylor37
aewestenbarger
charlescab
Exceeds
Springroll
Tulfa
DougAcker
Boonast
bdgza
zhodani
theimann
Jihef
J6A
Pert
gprince66
pinos58
Derekrledr
mrcoolranch
DylanDog
G1ul10
jcgfenoy
marktb1961
Tal S
WeeBeasties
Belisario