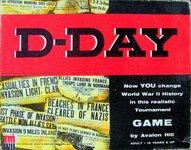 Files
Comments
2nd Edition by Brian Mason et al
Avalon Hill, Revised Edition 1965. Module Created by Brian Mason. Contact Brian at brian4482@gmail.com
Version history

| Version | Date | Notes |
| --- | --- | --- |
| 1.00 | 2009/11/1 | Initial offering |
| 2.01 | 2010/3/16 | Edited by Bill Sosnicki |
| 2.02 | 2010/3/21 | Edited by Bill Sosnicki |
2nd Edition by Gordon Cerow
Avalon Hill, 2nd edition with Stepped Tourny Game.
3rd Edition by Tommy Crispin
Uses John Cooper's mapboard and three sets of counter art; John Coopers and two from Thomas Krynicki. All with permission of respective copyright holders.
Turn track reflects alternate rules from Mr. Krynicki that abstacts the Russian Front but will work with normal rules.
3rd Edition by Christian Holm Christensen
Two version:
Rules included via Help menu
Tutorial
Some automated actions
Print'n'Play version available from BoardGameGeek file section
Please read the Help->More information for - well - more information.
Sources of module and Print'n'Play versions available from GitLab. Please go there for the latest and greatest version of the both the module and Print'n'Play version. The Print'n'Play version is available in many formats.
Screen Shots
Players
BiLLSoz
brian448
destroyer1963
shjoe
Hipshot
Steffskji
porkbelly