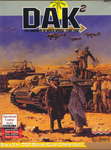 Files and Module Information
Filename
Filetype
Size
Date
Compatibility
Developer
Other Contributors
2.01
DAKII 2_01.vmod
Module
59.94 MB
2023-02-05
3.6.11
Jeff Coyle
Herman Wu, Jim Pyle, Chuck Soukup, Myk Deans, Dean Essig
2.0
DAKII 2_0.vmod
Module
59.32 MB
2022-12-17
3.6.9
Jeff Coyle
Herman Wu, Jim Pyle, Chuck Soukup, Myk Deans, Dean Essig
1.9
DAKII 1_9.vmod
Module
67.02 MB
2022-11-06
3.6.7
Jeff Coyle
Herman Wu, Jim Pyle, Chuck Soukup, Myk Deans
1.8
DAKII 1_8.vmod
Module
66.56 MB
2022-03-28
3.6.5
Jeff Coyle
Jim Pyle Chuck Soukup Herman Wu
1.7
DAKII 1_7.vmod
Module
72.37 MB
2021-12-10
3.5.8
Jeff Coyle
Jim Pyle Chuck Soukup Herman Wu
1.6
DAKII 1_6.vmod
Module
72.37 MB
2021-08-22
3.5.8
Jeff Coyle
Jim Pyle Chuck Soukup Herman Wu
1.5
DAKII 1_5.vmod
Module
71.9 MB
2021-01-03
3.3.2
Jeff Coyle
Jim Pyle Chuck Soukup Herman Wu
No FOW 1.4
DAKII No FoW 1_4.vmod
Module
67.15 MB
2019-12-14
3.2.17
Jeff Coyle
Jim Pyle Chuck Soukup Herman Wu
No FOW 1.308
DAKII No FoW 1_3_8.vmod
Module
67.06 MB
2019-09-09
3.2.17
Jeff Coyle
Jim Pyle Chuck Soukup Herman Wu
No FOW 1.307
DAKII No FoW 1_3_7.vmod
Module
67.05 MB
2019-08-08
3.2.17
Jeff Coyle
Jim Pyle Chuck Soukup Herman Wu
No FOW 1.306
DAKII No FoW 1_3_6.vmod
Module
67 MB
2018-05-16
3.2.17
Jeff Coyle
Jim Pyle Chuck Soukup
No FOW 1.305
DAKII No FoW 1_3_5.vmod
Module
66.74 MB
2018-04-29
3.2.17
Jeff Coyle
Jim Pyle Chuck Soukup
No FOW 1.01
DAKII No FoW 1_01.vmod
Module
61.74 MB
2016-11-22
3.2.16
Jeff Coyle
Perry Andrus
No FOW 1.0
DAKII No FoW 1_0.vmod
Module
65.38 MB
2016-11-22
3.2.16
Jeff Coyle
Dave Jeffrey
FOW 4.28
DAKII_v4_28.vmod
Module
15.82 MB
2015-08-26
3.2
George Hayward
Jim Pyle Jeff Coyle
FOW 4.27
DAKII_v4_27.vmod
Module
15.8 MB
2015-08-06
3.2
George Hayward
Jim Pyle
FOW 4.25+13.7
DAKII_v4_25_rc6.vmod
Module
15.05 MB
2013-05-15
3.2
George Hayward
Bill Gustafson




DAKII_V1_1.vmod
Module
13.1 MB
unknown
3.1
kishel
jmlima, jeux12sl
Comments
2.01 Fixed Combat Markers bug, so that they always display above counter stacks. Added keyboard shortcuts for dice roll functions. Updated keyboard shortcuts summary sheet, moved it under Help menu as pdf. On main map, changed piece select highlight to red border. Back-end revamping of Prototypes for OCS markers. Added Global Key Command to toggle off green border from DAK units to indicate acclimation. Added similar function for Littorio Arm'd Div onto its divisional marker. Streamlined analogous Global Key Command to indicate Training status of certain Allied divisions, located under their respective Training markers. All such Axis/Allied green units now also have right-click menu option to toggle green border individually.
2.0, counter upgrade Upgraded counter graphics, courtesy of Dean Essig. All counters with unit name truncation errors have now been corrected, and DAK counters have reverted to their original desert color scheme. VERY IMPORTANT: for those wishing to upgrade vsav files of ongoing games, be sure to manually document the size and Fill Level of all NON-organic trucks in your PRESENT module version, as this information will reset to their default levels upon the upgrade. On first opening your vsav file with v2.0, most counter images will disappear from the map, along with accompanying 'Bad Data in Module' error messages. This is to be expected. Then execute Counter Refresh under Tools menu, after checking the 3rd box labeled 'Use names to match modified Layer Traits?' before you proceed with Refresh. Note also that for unknown reasons, not all Axis Reserve markers will automatically Refresh, and will thus need to be manually replaced from the counter listings.
1.9, added FoW Incorporated Sub-menus to better organize drop-down menus for land/air units. Added Combat Markers to facilitate PBEM. Streamlined text option of displaying step losses. Added reference sheet of commonly used keyboard shortcuts.
1.8, added FoW Minor changes in folder structure, and updates to eliminate error messages.
1.7, added FoW Minor changes for v3.6.x compatibility without generating error messages.
1.6, added FoW Upgraded to v3.5 to enable Map Flare functionality. Mask graphics decreased in size to obscure less of the counter area for the friendly player. Inactive aircraft marker upgraded to be more prominent. Inventory-all button added on top of existing Inventory-Map button.
1.5, added FoW Fog of War and counter highlighting features have been added. Players can now Mask all their pieces except for Exploit and Out of Supply markers. Order of Arrival displays have also been revamped. vsav files from previous versions will NOT be compatible with this module.
No FoW 1.4 Eight errata counters from 2017 to replace corresponding counters with text truncation of unit names. Additional bonus counters from The Gamers's Christmas mailings from the 1990's.
No FoW 1.307 All scenario setups reviewed and corrected where needed. Errata items generated from scenario setup review have been labelled as 'Errata Submitted.' Bonus campaign scenario created, based on Mike Stohlmeyer's 'The Gambler's Last Throw' article in Operations issue 46, reflecting the action around Mersa Matruh. OCS v4.3 tables and charts uploaded.
No FoW 1.306 Chuck Soukup has added supply dumps counters and windows.
No FoW 1.305 Gentleman Jim Pyle has added map overlays and highlighting for green units. Select the menu bar help button for more details. Axis Shipping chart on map was updated to the revised version, and the setup for scenario 15 was corrected.
No FoW 1.01
Perry added the Supply Cache and colored circle markers and removed some unused images from RE and BTR.
No FoW 1.0
All the old George Hayward custom code has been removed. Fog of War is now handled by manually masking counters and/or Division Holding Boxes.
George Hayward developed all of the Fog of War (FOW) enabled OCS modules. Sadly, he passed away in June of 2013. I (Bill Gustafson) have uploaded the most current FOW OCS modules from his now defunct web page, and have removed references to that web page and his email address. If you have more recently updated modules please let me know, and I will upload them. If you find bugs with the existing modules you can also let me know, and I can try to fix them. I do not have copies of the previous versions of the modules, so if for some reason you want those to be centrally available, please email me and tell me where to get them.
Latest Versions of all FOW OCS Modules will be put in a centralized web location at some point in the near future.
Instructions on how to use all 4.0 modules can be found by pressing the "Module Use Instructions" button in the module. Failure to read the instructions will lead to frustration.
4.28 Fixes the setup for Gazala and provides hex number information on all hexes regardless of the number of units.
4.27 has the following changes:
1. Put white counter edging on back sides of combat units to make them easier to see
2. Added K-Tex markers
3. Reduced size of DG and OOS markers so it's easy to see top unit
4. Added the revised Axis Logistics chart
5. Upgraded OCS charts to Ver 4.1
6. Made edges of Hedgehog counters transparent to make it easy to see top unit under them.
4.26 Custom code recompiled for Vassal versions 3.2.14+
With permission of MMP
Release Notes:
rc2 fixes the scenarios which were broken (no step losses marked).
rc3 fixes a problem where a player couldn't control his own pieces in an on-map box
Screen Shots
Players
GregD
crward
MIDGARD
DerDiplomat
ktodd
robarrieta
Kristian
pzlehr
motoi
casoli
fgbelmon
vrobinson
tinG
zovs66
Don Lazov
OHWAAC
rockydadog
Deno
angealv
sidi45
jeux12sl
HawkeyeFierce
Alby
EagleWSO
supersolid
JrryS
jeb123
BugDany
Chiggy
jimcot
daxelos
KaelRandir
Jason B
Thomas Beach
eclecticdog
Ricky Gray
Norman Harman
Ulv Miller
AmusingTitle