Module:Dawn of the Zeds (Third edition)
From Vassal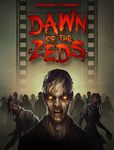 Files
Module Information
| | |
| --- | --- |
| Maintainer | gattsu |
| Contributors | |
Comments
With little choice between survival and a gruesome (un)death, you realize that you must coordinate the defense of the town of Farmingdale and its surrounding villages. You must lead the good citizens and emerging heroes of these communities to halt the Zeds' advances by (re)killing them, attempt to coordinate the discovery of a cure to this vile scourge, and preserve as much of the area and as many of its inhabitants as possible. There's no time to lose...

Version 1.0 First Version of a Vassal module for the best Zombie Game out there "Dawn of the Zeds (Third edition)".
© 2016 Victory Point Games. All rights reserved. Included by permission of the publisher
Please support VPG!
Screen Shots
Players