Module:De Bellis Vassalus
From Vassal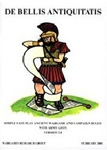 Files
Filename
Filetype
Size
Date
Compatibility
2.74
DBV2.74.vmod
Module
6.62 MB
unknown
unknown
Module Information
| | |
| --- | --- |
| Maintainer | mehrunes |
| Contributors | Skalla, mehrunes |
Comments
Ancient miniatures warfare
Version 2.1:
Added ability to put multiple boards together, to play DBM for example.
2.1 has optimised graphics for smoother gameplay.
To help with the memory leak issue I have found it helpful to minimise the VASSAL window every so often as this seems to reset the memory use.
I have removed the name tags from the counter artwork
and added in a "name" label option. This should allow you to use the mod for DBM or other games, though DBM will probably need a larger board size. -Added in a 24x32 and 32x32 board for those that like to play DBA on bigger boards.
Version 2.5:
added recoil move for units
pivot ability for ruler and wheel gauge
pips die now functions as an actual die, click in the middle of the counter to roll
Version 2.62:
Version 2.63:
added Fire Arc for Artillery
Version 2.64:
added Fire Arc for War Wagons
reduced number of rotate facings<
corrected issue with non-rotating unit decription
Version 2.7:
added more terrain
terrain in legal sizes from small to large pieces
two versions of boards (grassland and desert)
rescaled all graphics to ease further development
Version 2.71:
scaled graphics down to half size because of memory problems
changed fire arcs and ZOCs to red for better visibility
Version 2.72:
corrected issues with ZOC and recoiling
added pursuit trait to Warbands, Knights, Hordes and Scythed Chariots
Version 2.73:
corrected issues with new Vassal version, selection now visible, fire arc corrected
Version 2.74:
corrected depth of battle wagons and linked issues
Screen Shots
Players
Skalla
tippecanoe8
GalacticCmdr
CarlN0130
paspas
Almogaver
rhammond
zhukov
Zalgiris
jrhester
yangtze
JamesLDIII
javest
CesareBorgia
aarondesk
EricTheRed
LordJesse
shmcbee
mehrunes
bayernkini
aonghus
smaul1
lpauperio
Beagle
JRD4
IrishBouzouki
ronin4711
Hunwolf
chris6
marcpawl