Module:Dead of Winter: A Crossroads Game
From Vassal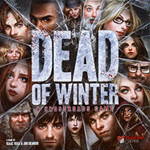 Files
Module Information
| | |
| --- | --- |
| Maintainer | Robo |
| Contributors | Robo |
Comments
All Secret Betrayal Objective card texts are censored to ensure players own a copy.

Vassal bug: Sometimes card decks can bug out(cards gone missing, always face-up).
Solution: Synchronize to the player who do not see this bug.

v.1.1

Right-click on item cards to pass to other players.
Draw crisis button on main board
Dice actions reports

v.1.0

Drag and drop objects if there is no right click option.
Right-click on Round tracker and Morale tracker to move it.
Right-click on zombie locations to place zombie or barricade.
Right-click on noise location to place noise token
Right-click on the bottom 3 rows of Colony Occupants to place a helpess survivor.
Right-click on Food Supply to change values
Right-click on Survivor cards to add Wound, Frostbite, Equipments icons. You can stack item cards on survivor cards, use the mouse and hover over it to see an expanded view.
All game tokens and dice are under "Pieces", most are just backups.
Main Objectives, Secret Objectives, Crisis Contributions are set to Always Shuffle.

Screen Shots