Module:Deadlands:Doomtown
From Vassal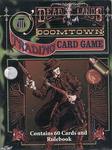 Files
Filename
Filetype
Size
Date
Compatibility
0.2
Doomtown_v0.2.vmod
Module
11.03 MB
unknown
unknown
Module Information
| | |
| --- | --- |
| Maintainer | GWUlery |
| Contributors | GWUlery |
Comments
Welcome to the Weird West!
I present to you the initial version of Doomtown on VASSAL.
Cards from Episodes 1,2 & 3 are now available. Others will be added as time permits. If you downloaded version 0.1 previously, you will need to rebuild any decks you made. There have been changes to the cards that do not get updated in saved decks when you update the Module.
Added in 0.2:
Wanted markers
Fear Level counter on the table
Cards are face up when they are in play or in a hand
Added a turn counter
Added a die to use if needed to select Events
Corrected some card issues and added flavor text
To do list:
Make a Pull command
Expand to 4 players
Separate deckbuilding from play so that players cannot add cards to the middle of a game
Things that I've noticed and need to fix in the next version:
Kenny's Suit/Value show through the mask
Make sure all hand windows are sized consistently
See if I can move the pile labels to the bottom of the stacks
Screen Shots
Players
GWUlery
Wargamer777
lchmelsky
Shuichi Niwa
davidk64