Module:Deep Space D-6
From Vassal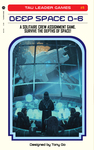 Files
Module Information
| | |
| --- | --- |
| Maintainer | Category |
| Contributors | |
Comments
"Deep Space D-6 is a solitaire dice game about surviving the cruel depths of space, by Tony Go"

This module is of the original print and play Deep Space D-6, as entered into the BGG 2015 Solo P&P competition.
To play, right click on the threat deck and shuffle the pack, and draw threats from there. Markers for hull & shields should be at full when you start. The crew dice button will show crew dice rolls, then drag die faces from the "pieces" tab to the board to represent the dice. Right click to delete any die face or card.
This module enforces no rules at all, but they are accessible from the Help Menu as of v0.3

The original PDF files are freely available here:-
Screen Shots
Players