Module:Die Macher
From Vassal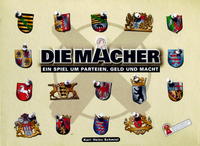 Files
Module Information
| | |
| --- | --- |
| Maintainer | DarkFib3r |
| Contributors | DarkFib3r |
Comments
By Valley Games; Designed by Karl-Heinz Schmiel
Module can also be downloaded from here.
Overview
From BGG: Die Macher is a game about seven sequential political races in different regions of Germany. Players are in charge of national political parties, and must manage limited resources to help their party to victory. The winning party will have the most victory points after all the regional elections. There are four different ways of scoring victory points. First, each regional election can supply one to eighty victory points, depending on the size of the region and how well your party does in it. Second, if a party wins a regional election and has some media influence in the region, then the party will receive some media-control victory points. Third, each party has a national party membership which will grow as the game progresses and this will supply a fair number of victory points. Lastly, parties score some victory points if their party platform matches the national opinions at the end of the game.
Player Sides
There are 5 player sides representing all of the political parties in the game. A player side can manage pieces on their side's pieces board, manage cards on their side's cards board, and can make preliminary selections for starting the game on their side's preliminary board. A player side can only see their own masked cards; these cards are slightly grayed out to the owning player, but are completely masked to non-owning players.
There is also a solo side which allows solitaire play. The solo side can view and manipulate all player pieces and cards.
Seating Order
Die Macher turns are resolved following a seating order. To represent the seating order during an online game, it is suggested that players draw new starting player tiles from the Pieces palette and arrange them in any order they are most comfortable with at the top of the State Boards main map. This will be helpful when resolving the different phases of the game and knowing who is to act next.
Screen Shots
Players
fleanbilly
DarkFib3r
crantinikid
meng
Renaud
yankeeap
randomlife