Module:Dien Bien Phu: The Final Gamble
From Vassal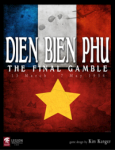 Files and Module Information
Filename
Filetype
Size
Date
Compatibility
Developer
Other Contributors
1.20 (2nd Edition)
Dien_Bien_Phu_2ed_1_20.vmod
Module
20.65 MB
2020-03-08
3.17
Jim Pyle
Jeff Coyle, Alan 'Murph' Murphy
1.10 (2nd Edition)
Dien_Bien_Phu_2ed_1_10.vmod
Module
20.25 MB
2020-02-08
3.17
Jim Pyle
Jeff Coyle, Alan 'Murph' Murphy
1.00 (2nd Edition)
Dien Bien Phu 2ed 1_00.vmod
Module
48.24 MB
2019-09-27
3.17
Jeff Coyle
Alan 'Murph' Murphy
1.3 English
DBP_v1_3.vmod
module
31.01 MB
2016-04-20
3.2.15
Don Stone
Mitchell Land
1.2 English
DBP_v1_2.vmod
module
31 MB
2016-02-22
3.2.15
Don Stone
1.1 English
DBP_v1_1.vmod
module
31.02 MB
2014-12-06
3.2.13
Peter Bennett
1.0 English
DBP_v1_0.vmod
module
31 MB
2014-09-23
3.2.13
Peter Bennett
Comments
ver 1.20 (2nd Editions
1. Added adjustable Trench Zone lines to map. This will ONLY WORK with games started with this version of the module
2. Made trench control markers unmovable to avoid accidental moving.
ver 1.10 (2nd Edition)
1. Automated removal of Shaken
2. "Moved" labels bigger
3. "Label" text bigger and red on white
4. Made Disorganized counter marker on unit counters easier to see
5. Changed outline color of unit selected
6. More detailed labeling of tracks for noting of moves in Comment Section of screen

v1_3 Same as 1.2 except that colored KTX markers have been added (with Change Label) to mark various items during PBEM.
v1_2 uses a fixed counterset (except for markers) and handles the barrage and Hanoi airfield boxes a little more elegantly
v1_1 corrects the setup errors in Scenario A and adds zones for all of the strongpoints so the strongpoint name will display when the cursor is hovered over the hex.
Screen Shots
Players