Module:Dig Down Dwarf
From Vassal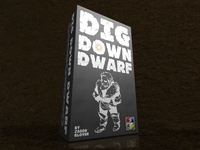 Files
Module Information
| | |
| --- | --- |
| Maintainer | Starfish |
| Contributors | |
Comments
Posted with permission from Jason Glover. Thanks Jason!
Dig Down Dwarf is a fast-paced dice game in which each player takes on the role of a dwarf chieftain in line for the throne. In the game, you roll dice to obtain gems from the mine. Gain the most valuable collection of gems, and you'll be crowned the new dwarf king!
On your turn, you draw two random gems from the bag and place them on the table. You then roll four six-sided dice. Certain gems require a certain number sequence in order to mine them; roll that sequence, and you can take all the gems of that type! As the game progresses, more and more gems will be added to the table, giving players choices as to which gems they want to try to mine. Sometimes you'll need to press your luck in order to succeed!
Once the bag runs out of gems, you enter the final round, with players needing to do their best to snag the last gems.
Screen Shots
Players