Module:Dragon Pass
From Vassal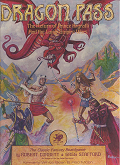 Files
Module Information
| | |
| --- | --- |
| Maintainer | Scott |
| Contributors | Scott, Norman J. Harman Jr. |
Comments
This is a module for the Chaosium version of the Gloranthan boardgame Dragon Pass, published in 1980. The module creator would like to thank Moon Design Publications for their kind permission to distribute this module.

For more information on this game, please see its BoardGameGeek page and Greg Stafford's background notes.
[Note: Greg's website seems to have been taken down; link to an archived copy of his boardgame page: https://web.archive.org/web/20130121202034/http:/www.weareallus.com/chaosium/boardgames.html]

Please note that Dragon Pass is a copyright of Moon Design Publications, and is used here with the permission of Moon Design Publications.

VERSION NOTES:
0.3 - Major usability update.
Dead Pile. Randomly distribute Dinosaurs. Randomly distribute Illusionary Armies. Check to see if Illusionary Army is the Puppeteer. Hi-light Magic Range, Glow Spot, and Un-light. Snap to hex grid and numbering. Snap to Spirits/Agents. Snap to Moon Phase. Send agent to Owner, Dismiss agent to Spirits/Agents Zone. Summon agent to Owner Labels, Movement Trails, Marked Moved. Zoom, Counter Inventory and Save to text file. d66 die roll. Several premade set ups. Probably some other stuff I'm forgetting.
0.2 - Added missing Sartar infantry unit (Gold-Gotti).
Screen Shots
Players