Module:Duel in the Desert
From Vassal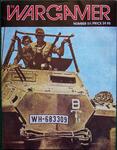 Files
Module Information
| | |
| --- | --- |
| Maintainer | kjuice, tswider2 |
| Contributors | kjuice, tswider2 |
Comments
Not Double blind, but uses concealment counters.

v1.1 September 2020
1) Fixed hex grid so it doesn't overlap with other grids.
2) Added hex numbers to facilitate calling out of locations.
3) Turned off reporting of movement logging from map to prevent intelligence leaks.
4) Added counters for marking Forward Zone, and may also serve as the Game Turn marker.
5) Fixed counters so that they can be made invisible instead of masked.
6) Added shortcut to send eliminated units to the deadpool.
7) Fixed typo for die roll button (said it was 2D6 but is actually 1D6).

- tswider2
Screen Shots
Players