Module:Dungeon
From Vassal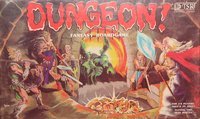 Files
Module Information
Comments
Parker Brothers 1975
Module Created by: Brian Mason
Contact me at brian4482@gmail.com
Converted from the Zun Tzu module.
Boardgame Geek Page http://www.boardgamegeek.com/boardgame/1339/dungeon
FAQ
Q. The hot key to place a gravestone is not functional.
A. The gravestone hot key is tied to the numbered monster counters. Select a monster counter and the hot key will work.

Version History
1.0 03/04/12 Initial offering.
1.1 03/26/12 Added 1d6 button. Edited hot key for 2d6 button.
Screen Shots
Players