Module:Dungeon Alliance
From Vassal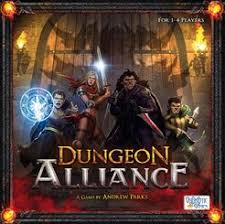 Files
Module Information
| | |
| --- | --- |
| Maintainer | gattsu |
| Contributors | |
Comments
Dungeon Alliance is a deck-building, dungeon-crawling miniatures adventure game that allows players to send 1 - 4 different teams of adventurers into perilous dungeons in search of experience and treasure. At the start of the game, each player drafts his or her own team of four heroes and uses tactical movement and cardplay to overcome the dungeon's monsters and acquire treasures. Rival teams may compete with one another to slay monsters, or even battle one another for complete domination. When the sun greets those who emerge from the pit, only one Dungeon Alliance will prove victorious!
Version 2.1
some QoL Improvements
added reset possibility for the Action deck
added Adventure Pack 1-4
UI interface overhaul

Version 1.2 Fixed some more minor bugs

Version 1.1 Fixed some minor bugs and added missing challenge Tokens
Version 1.0 This is the first draft of a Vassal module for the Dungeon Crawler "Dungeon Alliance". This version is designed mainly for solitaire play. However I'm new to module design, so if you have any tips for improving it, or want to edit it yourself to improve it, please go ahead!

© 2019 Quixotic Games LLC. All rights reserved. Included by permission of the publisher
Screen Shots
Players