Module:Dungeon Command
From Vassal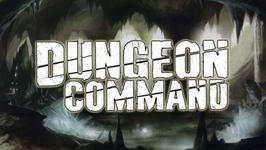 Files
Module Information
| | |
| --- | --- |
| Maintainer | thereisnotry |
| Contributors | |
Comments
Dungeon Command, produced by Wizards of the Coast. As always, users are encouraged to buy physical copies of any game they play on Vassal.
The current version (1.0) includes all 5 of the sets released so far: Heroes of Cormyr, Sting of Lolth, Tyranny of Goblins, Curse of Undeath, and Blood of Gruumsh.

Find the Dungeon Command Forums at: Wizards of the Coast
My username on those forums is thereisnotry. Please don't hesitate to contact me if you have questions or want to set up a game.
Screen Shots
Players