Module:Dungeon Universalis
From Vassal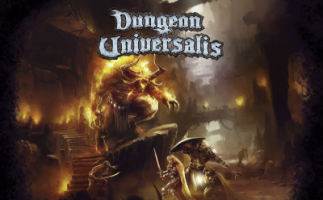 Files and Module Information
Extension

Module
Change Log

For bug reports or commments, please use this thread on BoardGameGeek

Extension Added
I made several Player Aids and published them on Boardgamegeek. Now I have bundled them in an extension. The extension adds two buttons to the module: "Aids" and "ADP". The first one opens a view with the panels Actions, Combat, Conditions & Consequences, Map, Symbols and Tiles. The second one opens a view with panels on the Artificial Dark Player.
Version 3.0 - Requires VASSAL Version 3.6.10 or later

ATTENTION PREVIOUS USERS

This is a MAJOR upgrade. Probably the last in the foreseeable future, at least until the next expansion.
Make a backup of your saved games!
If you upgrade from a version OLDER THAN 2.0 please read the warnings under that section (below)!!!
If you upgrade from previous version 2.0, you will have to make notes of any information in the properties of your Party marker and School of Magic-markers. You might need to re-enter that information.
Fixed: Three missing (harbour) locations on the map
Fixed: Centered all map locations to the corresponding icons
Fixed: Heroes Properties (Notes was not a multiline property)
Added: Heroes Property - Name (shown as label under the marker)
Added: All named map locations/regions
Added: White generic marker
Added: Blue temporary generic marker (which will be deleted during Winter Reset)
Added: Challenges-button (to list the current challenges)
Added: Export Summary-button
Added: Find Location-button
Added: Find Quest-button
Added: Find Next Campaign Mission-button
Added: Several icons in toolbar buttons
Added: Campaign names under mission markers
Changed: The module now starts with opening the Missions & Markers-panel and centering on the Heroes-marker
Changed: Reduced the resolution of the map, thereby reducing the size of the map file from 43MB to 2.4MB (should have done that earlier!)
Changed: Combined all search options in toolbar menu "Find"
Changed: Combined "Reset Trails", "Export Summary" and "Winter Reset" buttons in toolbar menu "Misc"
Changed: size of markers: "Heroes" and "School of Magic" (so they don't clutter up the map)
Changed: Moved the special missions "Snake Island Oracle" and "Special Questbook for Heroes" to the Specials-tab to make room for the stuff in the coming Kickstarter(s)
Changed: Corrected the order of options of all mission types
Version 2.0 - Requires VASSAL Version 3.6.10 or later

ATTENTION PREVIOUS USERS!

This is a MAJOR upgrade. If you are a user of the previous version, you will want to upgrade, BUT FOLLOW THESE STEPS:
Very important: BEFORE using this version, PLEASE open your saved DUN games in the previous version and note the Party Value Points and the current Campaign Week! Due to severe changes in those counters, this information will not be retained upon opening older saved games in the new version of the module!!
Even more very important: if you open an old saved game AFTER installing this version, you will have to run the "Refresh Counters"-command from the Tools menu BUT MAKE SURE to select the option "USE NAMES TO MATCH MODIFIED LAYER TRAITS" !!!!! (Or the status of all your missions will be reset!!)
Fixed: "Spring Clean"-button was completely FUBAR. My apologies for that. Changed to proper "Winter Reset"-button (resets in turn 1 instead of turn 13).
Fixed: Due to Vassal bugs - plus me misinterpreting the rules - I had to make significant changes to the Campaign Week counter. It is now just looping from 1 to 52 (without listing the seasons). Before installing this module, note your Party Value Points and Campaign Week, since this information will be lost upon opening an older saved game in this version of the module!!!
Fixed: Replaced term "Darkness" with "Danger"
Changed: Show/Hide functions. These are now called "Toggle X" and are grouped in a Toolbar Menu.
Changed: "Winter Reset" triggers an alert message
Changed: School of Magic, Home and Mission Markers can now be stacked, but are immovable.
Changed: Dates in Mission Properties now visible in overview window.
Added: Alerts for Winter Reset and winter hazards (during week 1 to 12 and 40).
Added: Alerts for "Increase the challenge!" when Player Value Points hit 76, 101, 126, 151, 176 and 201.
Added: Year counter.
Added: Boat types (there are three now, Warship has its own damage counter)
Added: Button "Move to Archive". It is now possible to archive finished and twice failed missions.
Added: Button "Toggle Archive" to show or hide all archived missions.
Added: Preference "Hide archive on start" (selected by default)
Added: Preference "Winter Reset ONLY POSSIBLE during 1st Week of Winter" (selected by default)
Added: Preference "Display Winter alerts"
Added: Preference "Display Party Value Points alerts"
Added: Zoom levels
Added: Properties to Party marker (to note the use of horses and their bagage, money lending etc.)
Version 1.1 - Requires VASSAL Version 3.6.9 or later
Fixed: missing location (Thorzul)
Added: zoom-levels
Added: School of Magic-marker to show items for sale this year (all SoM-markers will be deleted during Spring Clean)
Changed: stacking options for markers to prevent accidental movements
Added: Locate Party-button
Added: Party Value Points-counter
Version 1.0 - Requires VASSAL Version 3.6.9 or later
Comments
This module has been created to allow players to track their campaigns and missions on the DUN Campaign Map, adding notes and details. It also allow you to add campaigns and missions of your own creation.
Dungeon Universalis on BoardGameGeek

(For bug reports or commments, please use this thread on BoardGameGeek)
Main Functions
Keep track of Campaign Weeks (and be reminded of winter hazards)
Keep track of Party Value Points (and be reminded when reaching "Increase the challenge!" thresholds)
Contains the names and numbers of all official missions
Advance your missions through four states: Start, Success, Failed, Twice Failed (thus unavailable)
Archive finished or twice failed missions (so you can hide them)
Add notes to the campaign or any mission individually, but also to your boats, house and party
Create your own campaigns with the Homebrew missions
Markers for Heroes, Danger, Home and Boats, as well of Schools of Magic (to record magic items for sale in cities this year)
Use the Winter Reset-button to remove all Independent Missions and School of Magic-markers in the first week of winter
Usual VASSAL-function to hide all pieces and...
...on top of that, the ability to hide four layers separately: Markers, Missions, Homebrew and Archive
Locate Party-button to quickly find your heroes
Heroes, Danger and Boat-markers are trailed when moved
Screen Shots