Module:Dungeons & Dragons: Attack Wing
From Vassal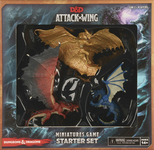 Files
Module Information
| | |
| --- | --- |
| Maintainer | nobody |
| Contributors | |
Comments
This is an unholy cobbling together of D&D Attack Wing using the amazing X-Wing vassal module. That one is genius, this one is unholy. You'll see, it's ugly. All of Wave 1 should be there, except some tokens.
Lots of tokens need replacing. You'll need to make custom notes to keep track of Spell Effects. Needs some blast tokens, other than X-Wing Bombs.
Tons of X-Wing stuff is still in there. This is a Work in Progress!
Screen Shots
Players