Module:Dynamo: Dunkirk, 1940
From Vassal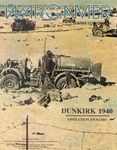 Files
Module Information
| | |
| --- | --- |
| Maintainer | mdaley99 |
| Contributors | |
Comments
Dynamo: Dunkirk, 1940
Wargamer Magazine Issue No.53 (May 1986)
Publisher: 3W
Game Designer: Ty Bomba

BoardGameGeek link:
Module Version 1.0
In this initial release of this module, the goal was to stay faithful to the original game design and artwork by Ty Bomba and his team at 3W. Here are some of the key considerations which resulted in some adjustments to the original paper version.
GAME BOARD:
The original game map included the CRT, Terrain, and Time Charts printed at the Eastern side of the board. These charts were printed "upside-down" to the playing area to facilitate their reference. This module opts for orienting the players with the map. The charts have been recreated and accessible from the module's navigation
FOG-OF-WAR (11.0):
Rules with the original game suggest that players "…deployment phase of every turn, you should turn your face away from the board to allow him to deploy them in secrecy …" and "… Players should also keep each other's reinforcement charts covered or out of sight of the enemy player …". To replicate these intentions, a player cannot move or view the units stacked of the opposing player. Also, the players cannot access the reinforcement tables and units of the opposing player. With these two limitations, the usage of DUMMY counters in the game may not be necessary. The unit counters are still available should a player wish to use them. Removing the ability for a player to reveal the units within a stack, also limits the owning player to quickly reference their own stack contents. Unfortunately, a player will have cycled through the stacks to see, move the individual counters (e.g. using arrow keys: UP = top; DOWN = bottom; LEFT = down; Right = up)
EVACUATION, ELIMINATION, AND WITHDRAWALS:
There are several ways in which units can be removed from the playing board. This depends on the country (British, French, or German). Each type of removal are organised into their own tabbed section
KAMPFGRUPPEN (15.0):
All German panzer divisions, except the 9th, may break down into two kampferuppen. No panzer division may do so, however, once it has taken any step losses. The 9th never forms KG. Access to the KG units is located under the tank icon in the top navigation.
Screen Shots
Players