Module:Euthia: Torment of Resurrection
From Vassal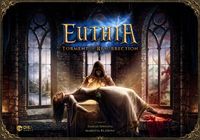 Files
Module Information
| | |
| --- | --- |
| Maintainer | gattsu |
| Contributors | |
Comments
You will face the threat of three mighty dragons born from the darkness of magic Faer, and in doing so, will have to deal with monsters and dangerous creatures plaguing the land. Search for legendary artifacts. Experience nature's raw elemental power as it influences your steps. Fulfill quests to help the struggling people of Euthia.
Version 1.0 - Updated all Components to final version. - Several Module improvements - Added Skoldur - Graphical interface overhaul
Version 0.0 First Version of a Vassal module for the Adventure Game "Euthia: Torment of Resurrection". All Assets are from the Tabletop Simulator Mod.
© 2019 Diea Games. All rights reserved. Included by permission of the publisher
Please support Diea Games!
Screen Shots
Players