Module:Feudal Lord
From Vassal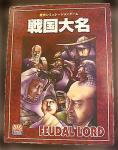 Files
Filename
Filetype
Size
Date
Compatibility
2.3b
Feudal_Lord_3.vmod
Module
29.23 MB
2014-03-11
unknown
Module Information
| | |
| --- | --- |
| Maintainer | {{{2}}} |
| Contributors | {{{2}}} |
Comments
This module is for Feudal Lord by Sunset Games. All of the rules are available at the Boardgame Geek website.
Rather than create a separate moderator/solitaire side, I have used the Blue Side position for this function. I've added a lot of other automation for collecting taxes, building/improving fortifications, determining harvest results, paying salaries & soldiers etc. The right-click menus have most of the information needed. If a general's actions are chosen from his right-click menu, his choice restrictions for later actions will be reflected/restricted. Player starting treasuries can be adjusted and gold for Scheming automatically withdraw via ALT-right-click menu.
The player order sequence is located in the Game Turn window. All re-shuffles are performed with the toolbar button in the Game Turn window. The Fortune Cards are handled in its own window and deals cards into the Player Hands. Cards that are required to be played immediately are automatically played immediately from the Player Hands. Cards are identifies by a colored border that matches the player colors.
To limit the number of players, first use the toolbar button, then go to the colored sequence chits in the Game Turn window and delete the appropriate number of colored chits. The Fortune Card deals are linked to this in order to deal the right number of player hands.
There are many separate windows for this game. Each player has one where his actual general counters are kept, a generic pool of replacement generals, his Event Cards, and his Power Rating. There are 2 windows for Power. One helps when calculating the control level in each province. It shows all of the forces that need considered, province by province. The other is just a summary screen of all players' Power Ratings, this is what usually determines winners and losers. The UP Button will Update the Power Summary window. The Reset Button Resets the Action Menus for Generals, usually at the start of a new turn.
Many thanks to Gabriele Suma for helping me playtest this module so I could fine tune it.
Screen Shots
Players