Module:Fields of Fire 2
From Vassal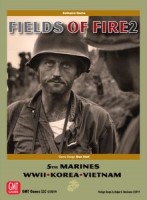 Files
Module Information
| | |
| --- | --- |
| Maintainer | Colin Parsons |
| Contributors | Colin Parsons |
Comments
Official GMT module.
This is a Combined module for Fields of Fire Volume 1 and Volume 2. It also includes some campaigns created by the author (currently Australians at Long Tan in Vietnam 1966 and British at Goose Green in the Falklands 1982 and Helmand Province, Afghanistan 2008. See the files section on BoardGameGeek (FoF Vol 1) for the relevant Briefing Books.
There are plans for (and starter material included in this mod) for the British Army at Arnhem 1944 but this is not yet finished.
All material is with the kind permission of GMT Games.
Please see the Discussion tab at the top of this page (via the three dots next to the search box) for the version Changelogs.
Please give any feedback and/or comments regarding errors, omissions or suggestions on the Fields of Fire forums on BoardGameGeek: Volume 1 or Volume 2 and I will endeavour to correct/improve it :) .
Screen Shots
Players
Colin Parsons
Chris Davis
WeeBeasties