Module:First Blood: The Guadalcanal Campaign
From Vassal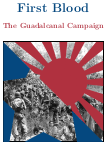 Files and Module Information
Filename
Filetype
Size
Date
Compatibility
Developer
Other Contributors
1.0
FirstBlood-1.0.vmod
module
5.35 MB
3.6
Christian Holm Christensen
Change Log
Version 1.0

First upload of this module
Comments
This is a module of The Avalon Hill Intercontinental Kriegspiel Society's game First Blood - The Guadacanal Campaign. The original game as published in Kommandeur Vol. 26, No. 6 in 1991, and has since been made available from grognard.com.
Tips
Use the turn track in the menu bar. It implements some automatic actions, and progresses the turn marker along the turn track.
The rules are available, as a PDF, through the Help menu.
See also More information in the Help menu.
Run the tutorial
Implementation
This module is based on my version of the game (sources available from this site). This version a revamp of the original, including new text and graphics, written in LaTeX using wargame package. This package supports generating a (draft) VASSAL module from the same sources as the Print'n'Play PDF.
Links
Screen Shots
Players