Module:First Team: Vietnam
From Vassal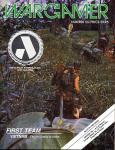 Files
Module Information
| | |
| --- | --- |
| Maintainer | theaney |
| Contributors | theaney |
Comments
Solitaire game of the 1965 Ia Drang Campaign.
8-27-07
The rules I uploaded sometime ago were obviously incomplete, but I finally got a chance to rescan the rules and upload them. It isn't perfect, because I missed scanning page 15 (sigh) and have uploaded that separately.
Please let me know if there are any problems with the rules.
Screen Shots
Players
theaney
czmielon
Chuck
DonQuixano