Module:Flight Leader
From Vassal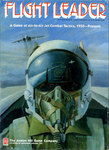 Files
Filename
Filetype
Size
Date
Compatibility
2.2
Flight Leader v2.27.vmod
Based in the 2.26 version including new aircraft and counter improved artwork by Edmund Hon (Taskforce 58)
19.32 MB
2023-05-26
3.6.7+
Flight Leader v2.26.vmod
Complete Module including Umpired Game
9.41 MB
2012-06-10
unknown
Flight Leader v2.25.vmod
Complete Module including Umpired Game
9.4 MB
2011-04-09
unknown
Flight Leader v2.2.vmod
Complete Module including Umpired Game
9.39 MB
2010-07-20
unknown
1.1
FlightLeader.vmod
Module
5.99 MB
unknown
unknown
SP_Std_1.1.zip
Scenario Pack
201 KB
unknown
unknown
ScenarioPack_ReadMe.txt
ReadMe for the Scenario Packs (included in both zipfiles).
4 KB
unknown
unknown
Blind 1.1
FlightLeader_blind.vmod
Module
6.12 MB
unknown
unknown
SP_Blind_1.1u.zip
Scenario Pack
257 KB
unknown
unknown
Blind_Addendum.txt
Addendum to the ReadMe.txt file for the blind version of the module. Please download and read BOTH this file AND ReadMe.txt prior to playing.
8 KB
unknown
unknown
ReadMe.txt
Please download and read. File contains important tips and information for BOTH Standard and Umpired Game modules.
7 KB
unknown
unknown
Module Information
| | |
| --- | --- |
| Maintainer | Richz99 |
| Contributors | Richz99, krazykiter |
Comments
Module for Avalon Hill's Flight Leader. Air-to-air combat in the jet age.
This module was originally created by "Larry S" in Oct 2007. It has since been maintained by Rich Lee (Richz99) and updated to version 2.25.
The current version includes additional aircraft from The General Vol 23, as well as original aircraft that were simply missing from the original offering. Also included are new missile overlays, aircraft and missile information charts, and the blind umpired Optional Rules (16.2) have been incorporated into the standard Module.
I've retained the original Flight Leader module files here in deference to Larry.
---

This module contains counters for many of the variant aircraft in the Aircraft Information Lists plus additional enhancements not a part of the original game.
There are two versions of the module: The Standard Game version and a "double-blind" version for use with Optional Rule 16.2, The Umpired Game.
Two Scenario Packs, one for each version of the module, contain start files for all Section 24.0 and 25.0 scenarios from the Flight Leader rulebook.
2007-10-08: Version 1.1
-Released blind version for use with rule 16.2, the Umpired Game. The letter "u" has been appended to version number.
-Standard module updated to version 1.1 to make gameplay as consistent as possible between Standard Game and Umpired Game modules.
-The version number has been removed from the module filename in response to a helpful suggestion from a player.
Changes for Flight Leader v1.1:
-The "Change Callsign" and "Change ID" commands are now grouped into a sub-menu called Setup.
-Status Card windows are now Private Windows visible to all players to prevent unauthorized changes by others. NOTE: Due to an apparent bug in VASSAL 2.9.9, free rotation does not appear to work correctly in private windows.
-Aircraft, Bogey and Missile counters now have expanded keyboard movement controls. Players can use several different key combinations to turn the counters and move them forward: Ctrl- F, W, or Up arrow = Move forward Ctrl- L, A, or Left Arrow = Turn L Ctrl- R, D, or Right Arrow = TUrn R
-Note that the hotkey for Delete is CTRL-SHIFT-D for all pieces.
-Several new variant aircraft counters have been added for use in the Scenario Packs.
-Corrected the MiG-23E counter due to an error in the original Flight Leader manual.
-"Does Not Stack" property has been removed from many Game Markers and to make it easier to view them on the Turn Record Card. Stacking has been enabled on the Turn Record Card as well.
-Released two Scenario Packs - one for Standard module, one for Umpired module - with saved game start files of all Flight Leader Scenarios.
---
2007-09-09
Initial 1.0 release.
Notes about the 2.27 version: This version is based on the 2.26 and adds the counters with improved artwork based on the Edmund Hon´s Flight leader counters from BGG (https://boardgamegeek.com/blogger/5749/edmund-hon); also includes some optional aircraft with variable geometry. Thanks to Edmund Hon for grant permission to include their counters in VASSAL.
Screen Shots
Players
krazykiter
Razor
bruno68
koebi57
jrmerson
MCharves
steved
shmcbee
marksheppard
daxelos
AthenaShooter
bdgza
JamesPaul
J33pFan
davidk64