Module:Frederick the Great
From Vassal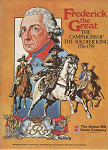 Files
Module Information
| | |
| --- | --- |
| Maintainer | cgmclellan |
| Contributors | cgmclellan |
Comments
Friederich the Great v1.1: New module art and graphics by Luca Marcolungo. Also imported from ADC2. Yes, I know I have mangled the title -- I was rushing. If you want to play and help, you can post your scenario to the master file. No hidden units have been set. You can do that also.
Frederick the Great v1.0 imported from ADC2. Module Size = 5.14 MB. To indicate force inside fortress, click Piece Properties and type Y(es) or N(o). Force without Y or N is considered outside fortress. Charts are from the ADC2 module; so do not take the [how to use the module] instructions too seriously.
Freddy Documents.zip (2.17 MB) contains in both ".pdf" and ".doc" formats: 1) Avalon Hill 1982 Rules; 2) Diplomacy and Grand Strategy in Frederick the Great by Joseph Balkoski; 3) The Silesian Wars, 1740-1745 by Arnold Blomberg; 4) The Craft of the Soldier-King by Deane Sperdakos; 5) Frederick the Great Campaign Scenario from Wargamer magazine; 6) Frederick the Great Errata from the General magazine by Wendell Martin.
Frederick the Great v0.2 From the Al Hay archive
Screen Shots
Players