Module:Gaslands: Post-Apocalyptic Vehicular Combat
From Vassal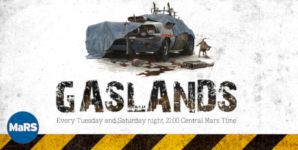 Files
Module Information
| | |
| --- | --- |
| Maintainer | Robert Fox |
| Contributors | Seeking Assistance |
Comments
Gaslands is described by its creator as "...a tabletop game of post-apocalyptic vehicular mayhem. With fast and cinematic rules, it is designed to be played with toy cars, allowing players to ram, skid and race their way through the wreckage of a burnt-out Earth." The game has been described a "spiritual successor" to Steve Jackson Games' "Car Wars" by Car Combat Central, although the two games utilize significantly different mechanics.
Players first develop a roster of kit-bashed and distressed toy cars and then outfit them with various weapons, upgrades, and abilities using a fixed budget of "cans," a fictional currency. Players choose templates to guide the direction and distance that their car travels. Speed is controlled by rolling "skid dice" that also determine if a player's vehicle will spin, slide, or flip during/after a maneuver. Certain maneuvers may become hazardous at high speeds (or cannot be performed at all), so balancing acceleration and deceleration is critical to negotiate the optimal line of the course in the shortest number of turns.
Clean racing is not the only way to win at Gaslands. In fact, dirty driving is encouraged, especially in demolition-derby scenarios. Some vehicle types are better suited to survive repeated collisions,often at the expense of speed. In addition to close-quarters vehicular combat, players will utilize their car-mounted and crew-operated weaponry to either keep opponents at a safe distance or reduce them to flaming wreckage.
The Gaslands VASSAL modules are minimalist implementations of the Gaslands mechanics. Players are able to place, move, and rotate appropriately-scaled digital representations of vehicles, terrain, and movement templates. Right-clicking vehicles allow access to contextual menus to track vehicle stats such as hull points, current gear, hazard tokens, etc. Various buttons provide simulation of skid, evade, and hit rolls. Gaslands VASSAL was publicly released as version 1.2.1. Additional versions are in continued development.
IMPORTANT NOTE: THE GASLANDS RULEBOOK IS REQUIRED TO PLAY THIS MODULE. The Gaslands Vassal modules do not contain resources (images, reference materials, etc.) other than those freely available by Mike Hutchinson/Osprey Games. Please support the game developer and publisher! More information about Gaslands is available at the Gaslands homepage. Gaslands is written by Mike Hutchinson and illustrated by David Auden Nash. Gaslands is copyrighted 2019 by Mike Hutchinson.
Version 1.3.1 introduces realistic vehicle counters for a majority of the vehicles present in the rule book. V1.4 includes significant improvement in obstacle and terrain graphics. The UI and game play remains unchanged from version 1.3.1, which introduced an enhanced interface with reduced menu ribbon clutter and simpler contextual menus.
Screen Shots
Players