Module:Gettysburg
From Vassal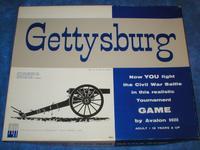 Files and Module Information
Comments
v1.01 Update
Unit size symbology corrected for all three setups
v1.0 Rebuild
Sandbox - Virtually every element can now be changed in-game

Players without Vassal design knowledge can make their own version of Gettysburg'64
Robust messaging shows highlighted warning when change is made in-game

Terrain Overlay (transparent) can be used to clarify terrain status of map squares
Combat Results Table cells can be modified in-game
Units of all types can be created and changed

Commander names can be changed in-game
Unit size can be changed in-game
Combat/Movement values can be changed in-game
Units can accommodate up to three values if desired

Order Of Arrival Charts can be changed in-game
Stylized pointers/notes available for each board
much more

0.5 - Removed snap to map grid, increased map size slightly, made combat strength on pieces larger, and added red movement icon to mark when moved.
0.4 - Made all pieces have 8 facings instead of 6 or 12. Enlarged CRT and made slight adjustments to map performance.
0.3 - Added HTML help file of Battle Manual. Added plain text quick start. Added entrenchment counters. Removed delete trait from combat units and fully implemented graveyard.
0.2 - Original upload. Started life as Gettysburg '58 and finally became Gettysburg '64.
Screen Shots
Players
Geof Gibson
akulkis00
Steve1501