Module:Gettysburg: Badges of Courage
From Vassal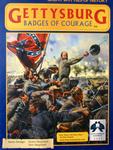 Files
Module Information
| | |
| --- | --- |
| Maintainer | shilinski |
| Contributors | shilinski |
Comments
Columbia Games: Badges of Courage
For rules and more information, visit Columbia Games.
When you run the module, pull down the help menu to see a Gettysburg players guide, which explains how to use the module.
I uploaded version 2 on 4/8/07. If you are playing by email with an earlier version, do not change to this one in mid game because it will introduce problems like missing images. If you have problems or questions, write to stan@hilinski.net.
Note: 3.1 is exactly like 3.0b2 except when units are hidden, it says, "HIDDEN" on them.
Screen Shots
Players
czmielon
shilinski
toshikazu
Wargamer777
motoi
gwylie
Andre
BigDave
rmanns
gittes
vmi1983
glocko
daxelos
John Longstreet