Module:Ghost Stories
From Vassal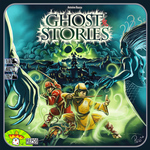 Files and Module Information
Comments
Versions include expansions
v1.19 - A few minor bug fixes (infinite Tao stock glitch, 'Uncatchable' now discardable). Altered layout to accomodate Shadow Swords (unofficial 5-8 player expansion). Full credit due to waddball for his original efforts - 98% of this module is still his work. [-LordRaidor-]
v1.18 - Added Jean Claude Van Rice. Added "highlight" function to show the current turn (very handy if playing solo).
v1.17 - Fixed bug where Ma-Cho family was showing up incorrectly. Fixed bug with deck creation bias (small, but...fixed). Added smalll "quick start" guide for those new to the mod. Cleaned up some menus.
v1.16 - Added Village People and Crazy Shaman card. Cleaned up some logging.
v1.15 - Added many improvements. You can play with or without White Moon and other expansions. Better logging and automation.
Screen Shots
Players
waddball
roryoconnor
Batei
Shadoglare
Yu-Khan
LordRaidor